BRISBANE ROAR 2 – WELLINGTON PHOENIX 1
ADELAIDE UNITED 2 MELBOURNE HEART 2
CENTRAL COAST MARINERS 3 NEWCASTLE JETS 0
MELBOURNE VICTORY 0 SYDNEY FC 5
WESTERN SYDNEY WANDERERS 3 PERTH GLORY 1
The Week Where Everything Happened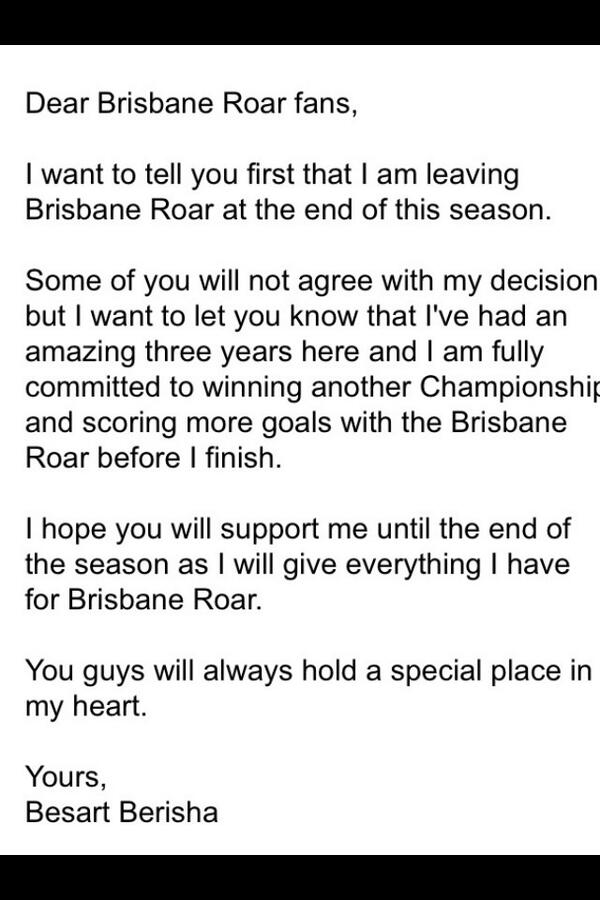 So here's how the week went down.
Tuesday:  Besart Berisha writes a letter to Brisbane Roar fans explaining that he is leaving the club, a sad but not unexpected development due to his incredible talent far outweighing what Brisbane Roar could afford to pay him.
Tuesday:  Minutes after the letter is emailed to fans, Melbourne Victory reveal that they have signed Berisha.  This is a huge, unexpected and unwanted development.  Roar fans are disappointed.  Victory fans are crowing.
Wednesday:  Melbourne Heart completely steal the thunder of their cross-town rivals by announcing that they have been purchased by Manchester City.  The club is rumoured to be rebranded as Melbourne City at the end of the season with a new sky blue uniform to boot.
Thursday:  Nothing happened
Friday:  Brisbane Roar, without Besart Berisha, beat Wellington Phoenix 2-1.  So far they have won every game this season without him.
Saturday:  It is announced that Brisbane Roar will play Manchester City in a friendly later this year.
Sunday:  Melbourne Victory lose their second consecutive game 5-0.  Oh, how we laughed!
It was definitely a week to remember.
In time, I'll be able to digest the news of Manchester City's purchase of Melbourne Heart and Besart Berisha's impending exit and have more to say.  But for now…
2-1, 2-1, 2-1
Spare a thought for Wellington Phoenix who lost 2-1 to Brisbane Roar for the third time this season.  Both teams were under-strength due to injuries and international duty.  Unlike the Ricky Herbert days though, the new Wellington Phoenix under Ernie Merrick came to play at Suncorp and dominated the first half, taking a deserved lead on the half hour mark through striker Stein Huysegems.
Brisbane Roar coach Mike Mulvey must have given some halftime speech however as the complexion of the game changed in the second half and the Roar slowly began to regain the ascendancy.  Likely the heat probably played a part in Wellington starting to wilt.  Still, it took two cracking goals to prize them apart.  The first was a goal on debut for the curiously named Devante Clut.  The match winner was a glorious thirty metre strike from midfield stalwart Luke Bratten who has well and truly taken up the mantle left by former midfield lynchpin Erik Paartalu.
The win halts the Roar's mini slump in form and puts them back in the drivers seat for the home stretch of the season.  A five point lead and eleven rounds to play.  Can we do it again?