6:30 PM Australia might have a new Prime Minister in half an hour.
Nearly three years after Julia Gillard assumed power in Australia by ousting sitting Prime Minister Kevin Rudd from her own party, we are now having the third and final leadership spill from Kevin Rudd.  After two previous unsuccessful attempts to spill the leadership, Rudd has agreed to a 'Loser Leaves Town' stipulation where the loser will immediately quit politics forever.
Labor's factional warlords will be at ringside to prevent any outside interference.
…
Dear God, this has been an awful electoral cycle.  The very worst.
6:40 PM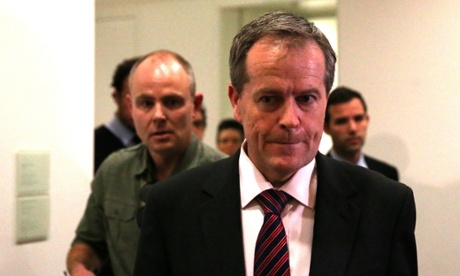 Noted Labor kingmaker and former Gillard backer Bill Shorten has just turned heel and thrown his support behind Kevin Rudd.  Will offer his resignation if Gillard wins the ballot.  This is it.  It's all over for Gillard.
Shorten was the man who delivered Gillard the prime ministership in 2010.
6:53 PM
"I've got this"
6:56 PM
@latikambourke
Rudd camp saying 55-60 votes for the former PM and 'growing'.
He needs 51 to win.
7:05 PM
Team Gillard are walking in to the caucus room now.
Julia Gillard is walking with Wayne Swan, Kate Lundy, Joe Ludwig, Craig Emerson – a number of others.
Shoulders back, big smiles.
Kevin Rudd is wandering in by himself.
7:06 PM  This is an election about choosing who we hate the least between three people.
7:26 PM  News.com.au has got fed up waiting and has just decided to call it for Kevin Rudd.  They've always hated Gillard and are happy to pile on.
7:35 PM  #RuddWedding is trending on Twitter
7:56 PM  Guess who's back.  Back again…
Kevin Rudd is OUR new prime minister elect.
Now we have an election on our hands.