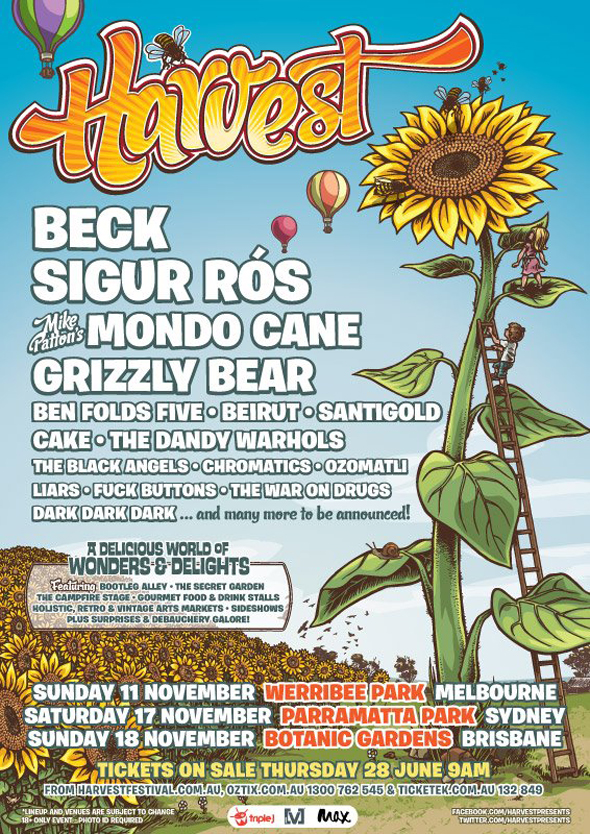 I went to Harvest Festival on Sunday with Jen and Rich.  Harvest is only a couple of years old but I think it has found a pretty good niche for itself amongst the crowded festival circuit.  It's positioned as the festival for people that don't like the stereotypical bogan festival goer.  There are no shirtless, roided up dudes wearing Australian flag capes at Harvest.  No terrible tribal tattoos.  No under eighteens getting hammered like they're at Schoolies.  It's like the anti-thesis to Big Day Out.
The line up for this year looked pretty damn great.  I was looking forward to all the headliners – Beck, Sigur Ros, Ben Folds and Grizzly Bear – but the only concern for the day was the weather.  We had a big-ass storm on Saturday and it threatened to rear its head on Sunday.  Sure enough there was a couple of times during the day where it absolutely pelted down with rain.  So much so that there was an evacuation before the start of Ben Folds Five's set.  We all ended up sitting under cover at Queensland University of Technology for about twenty minutes and then we were good to go.
Unfortunately, thanks to the rain throwing off the schedule, I didn't get to see Grizzly Bear but happily Sigur Ros still put on a full ninety minute set and they were incredible.  They played all my favourites (not that I can pronounce or spell the names of the songs) and there was nothing quite like watching them in an outdoor venue where you can just lie on the grass, nice and relaxed.
Other highlights from the day included Dandy Warhols and Mike Patton, neither of whom I was particularly excited about beforehand but both put on great sets.  Patton is the former Faith No More frontman and he now travels with a thirty piece orchestra doing covers of Sixties Italian pop songs.  It's pretty awesome.
All said, this was one of the most enjoyable festivals I've been to in years.  There was a fantastic line up, I think the organizers did well to deal with the crappy weather and the bands I came to see were brilliant.  If the line up next year is of a similar standard, I'll definitely go back.